Congratulations on purchasing your domain and web hosting, if you are reading this blog it is most likely because you have purchased a web hosting package that is controlled by Cpanel.  Below is an idea of what Cpanel will look like once you have logged in, this screen will vary depending on what hosting provider you are using.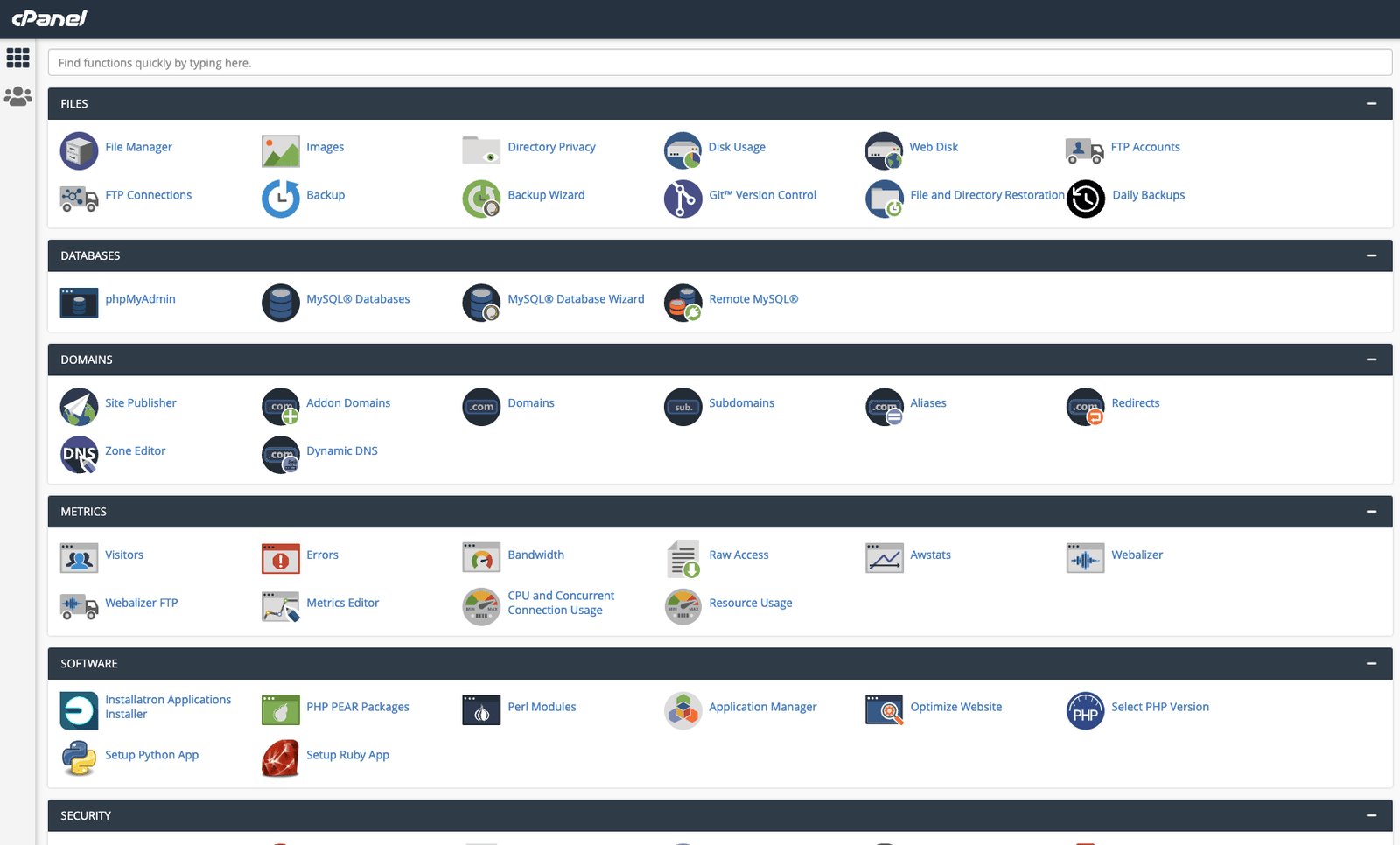 Step 1
The first thing to check is whether your domain is registered to your Cpanel. If the domain and hosting are purchased together it may already be registered. To check if your domain is registered or to register your domain to your Cpanel select the following options Domains -> Domains -> Check to see if your domain is in the list if it is move on to step 2 -> if not press create a new domain and add it to the list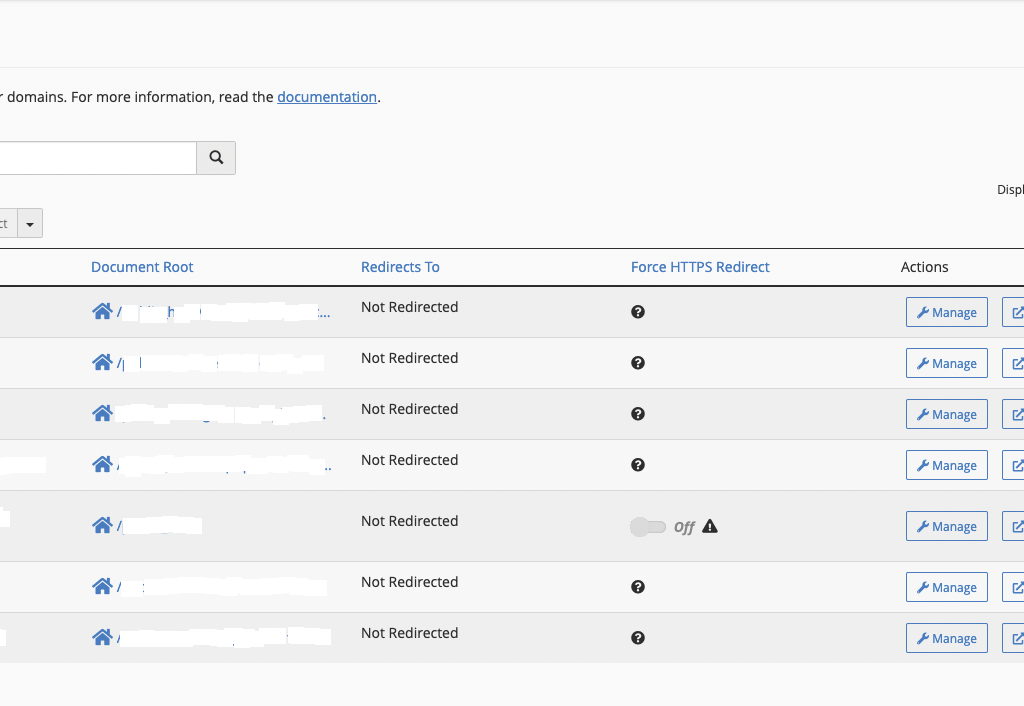 Step 2
Now you have added the domain we need to install WordPress to your domain. Scroll down to applications and under the subheading Featured Applications and click WordPress -> Click the button near the top right that says install this application.
Step 3
Now is the most important part, making sure all of the information is correct.
Section 1
Domain -> Select the domain you would like to install WordPress to
Directory -> This is the folder it will save your data to
Section 2
Version -> I would select the latest version as this will save you doing updates immediately
Language -> Select your preferred language
Section 3
Tick the box to accept the license agreement
Section 4
Automatic Update -> Update new minor Versions
WordPress Plugins Automatic Update -> Do not automatically update WordPress plugins
WordPress Theme Automatic Update -> Do not automatically update WordPress Theme
Automatic Update Backup -> Create a backup and automatically restore the backup if the update fails.
(I have set it up to not do the updates automatically, I have encountered many issues with updating plugins and themes which can sometimes bring down your website.  However, I advise that you regularly update your plugins and theme ensuring you do a manual backup beforehand)
Section 5
Administrator Username -> Choose a username you will remember as this will be your login username
Administrator Password -> Choose a password you will remember
Administrator Email -> Your email
Website Title – > Business name or title of your website this will show on the tabs of your browser
Website Tagline -> create a tagline for your website or leave this blank if you do not wish to have a tagline
Then click install at the bottom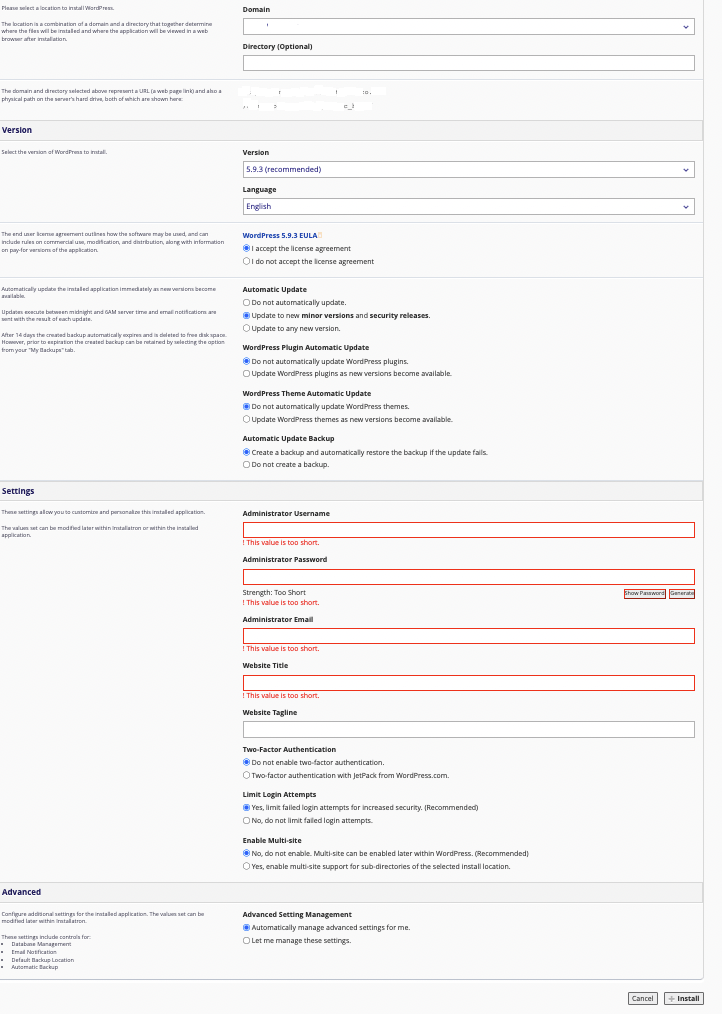 Step 4
Log into your website
the wp-admin is how you get to the admin page and make alterations to your website.
Now you have installed WordPress from your Cpanel you are now set to go.  My next tutorial will show you how to install themes and plugins.